CoSign: Vol 1 Is In The Books: See The Full Recap Here!
It's no secret that Colorado has become a haven for music, but some believe certain genres have fallen by the wayside. Genres like Hip-Hop & Rap, for example, have been labeled as disjointed, fragmented, and exploitive, often putting profit over talent; creating a recipe for disaster. This is why "CoSign" creators Max Rozier of Belly First Productions & Adrian Garcia of FAM Bam Productions decided to bring a brand new Hip-Hop concept to the Mile High City.
Vol. 1 went down on June 12th at Denver's Mile High Spirits, the permanent home for this brand new, and continuous event. It was a regular old Wednesday night, that managed to attract more than 200 happy hip-hop enthusiasts to the dance floor, as well as some pretty not-worthy names. Names like Trev Rich, one of Denver's more prominent Hip-Hop artists, who even served as MC for the evening. As for the talent, stars in the making, every single one of them! It's really tough to fill a bill with TEN artists, all ready to bring the heat but CoSign: Vol. 1 managed to do exactly that.
It all starts at the top, with this new concept, and works its way down by allowing the two main headliners to choose their own supporting acts. In theory, the producers of this event foresaw a more authentic commitment from the artists and their entire crews. A commitment that would pay off in the way of a more passionate performance from the artists as well as a larger and more engaged audience. The plan worked, and everyone walked away from the first CoSign event on cloud 9.
Your headliners for the night were Paul Junior, the multi-talented musician, lyricist, and producer as well as Chy Reco, who's been a rising star in Denver probably due to his incredible command over his crowd. It's truly a gift, the way he injects immediate energy into his audience as he comes on stage. Originally from the south side of Chicago, IL, Reco began his musical journey at the age of 13, heavily inspired by Tupac, Biggie, DMX, Eminem, Jay-z, and Nas to name a few. In 2016 he began to push his music in Denver performing in open mics and rap competitions, before moving to bigger stages and bigger crowds. On December 13th Chy Reco released his very first project, Me Between The Lines featuring a range of different music and other talented artists such as Taurean who also performed in COsign Vol. 1.
Paul Junior brought an entirely different flavor with his R&B sounds accompanied by his entire band. This guy can truly do it all, whether it's singing, rapping, playing the keys, DJ'ing, or producing. Shoot… I heard he and his band had a renegade set at one of Denver's First Friday Art Walks that stole the entire evening. He's a star in the making and what's more, he's clearly passionate about helping to make others into a star. You can find him most days in his small studio nuzzled into The Santa Fe Art District.
The list of supporting acts stole the show, in my opinion. Their hunger and drive stood out above their talent even. It was very clear these artists were all handed an opportunity they had every intention of taking full advantage of. Take Sloesip for example, or Sloe Pesci, who made his presence felt on and off the stage all night. His swagger and vibe were noticeable from every corner of the venue. His interaction with his fans showed how much he cares. It showcased exactly what he's doing this for.
Rachel Bailey was another stand-out name, bringing an entire supporting cast of dancers on stage with her. This German-born, singer/songwriter/dancer is currently working on her first full-length album, and plans on taking her act far beyond the stages of Denver, CO. Myke Charles was yet another standout name, perhaps performing during the highest peak time of the evening. His dance floor was PACKED and the energy was through the roof. His powerful lyrics are delivered effortlessly and keep the crowd engaged, proving hip-hop can still be about more than just commercial appeal.
Most impressively for the evening, Anou Ru took the stage early in the night for her first ever live performance. With her large base of friends and family all front row to cheer her on, she delivered a fearless and emotional set as if she was saying, "I'm Anou Ru, and I'm here to stay so remember the name." The passion and realness were oozing from this new-comber all night. Her support and appreciation for the more experienced artists around her, as well as her dedication to setting the tone for her own brand, was all so impressive and I truly can't wait to see where this artist ends up.
For perhaps my favorite act of the night, Denver native Taureen delivered a masterful set smack in the middle of all the talent for the evening. It was a set that told a story, fueled by passion and desire. Taurean uses his lyrics to express ideas about family, respect, love, and communities coming together. Between his presence on stage, and the power in his music, this artist seems primed to take his career to the next level.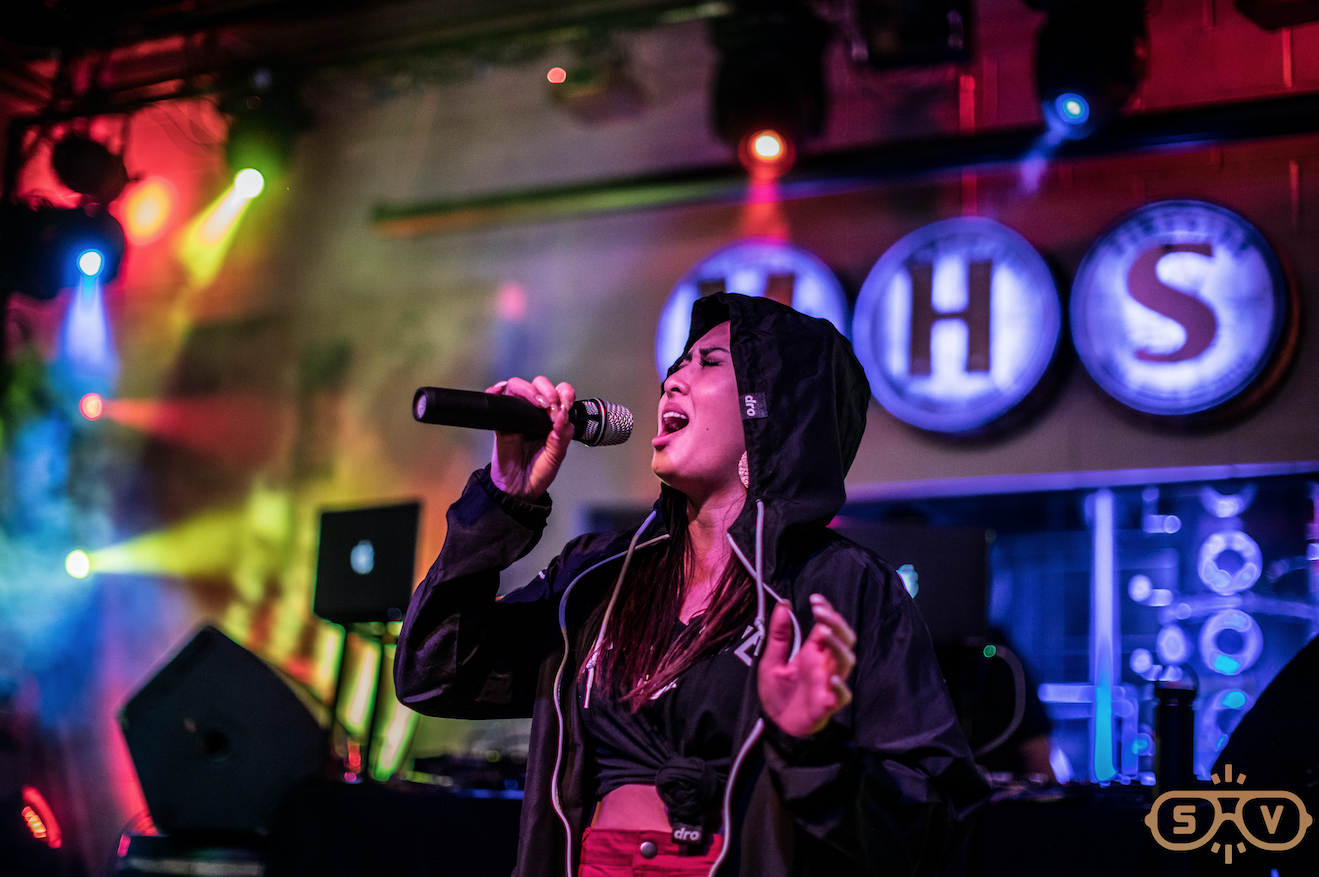 There were so many amazing moments for the evening it's hard to fully recap them all. Needless to say, every aspect of the event was a success. 1-natVson-1 with his reggae - hip/hop blend and Traidz rounded out the evening while delivering a slightly different feel to the night than their peers. Traidz took the stage early with a flow that caught my ear right off the bat. It was tough to tell whether he was freestyling or producing pre-conceived lyrics and his humble attitude all night seems to be the defining quality of this young artist. He's just up there doing his thing, really.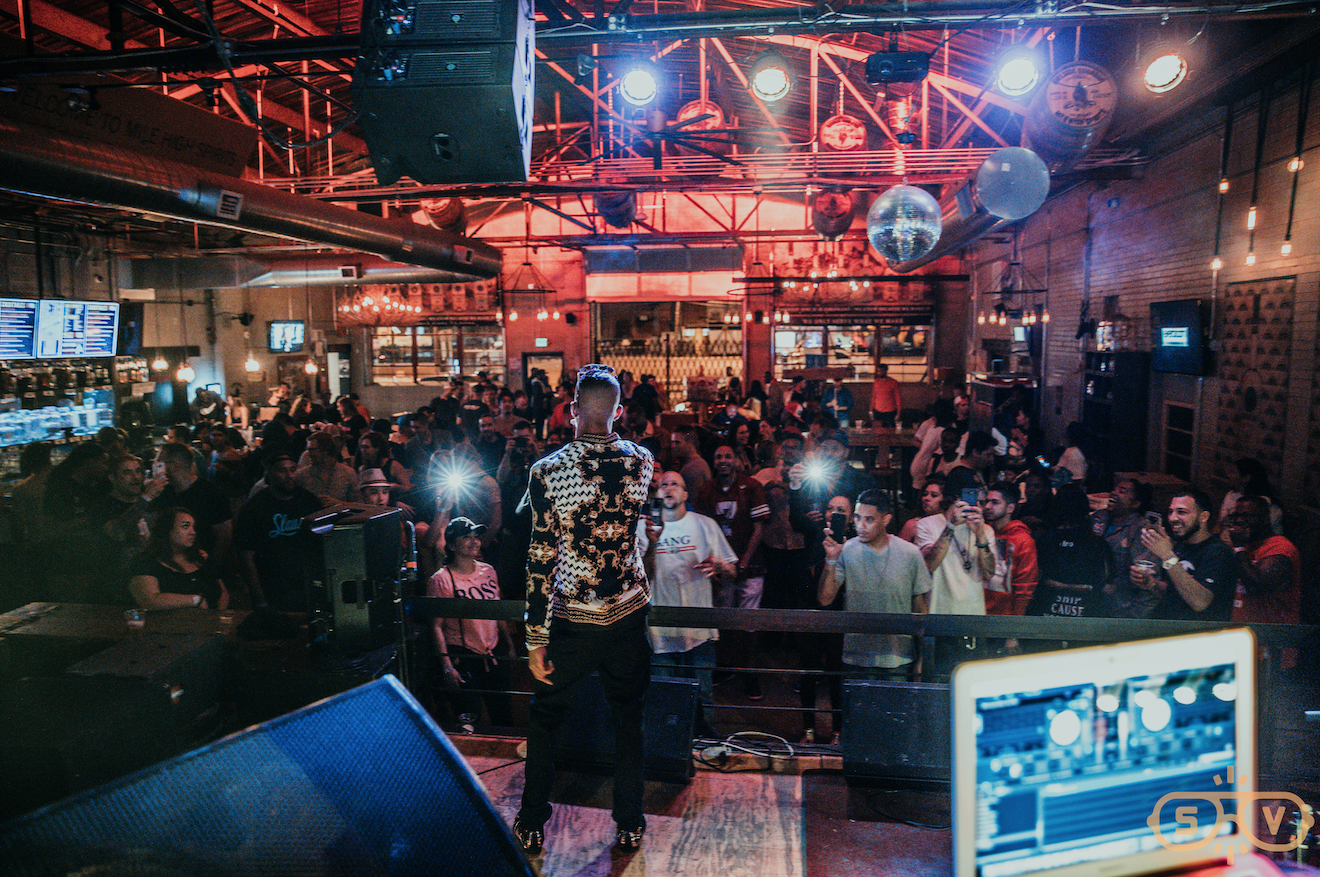 The success of the event was able to attract some home-town sponsorship support even. The local dispensary, Everbloom, was on-sight providing all kinds of sweet deals for their local stores, as well as taking part int he party. They will be there in the same capacity for Vol. 2 and beyond, coming to Denver this July. We will be bringing you full coverage of this series as more info rolls out, so stay tuned.
All Photo's provided by: Jake Feldman Photography