Enjoy Our Official Sonic Bloom 2019 Recap Right Here! Drone Video Recap, Full Photo Tour, & Editorial
Sonic Bloom 2019 is in the books and intimate does not even come close to describing the energy of this big-time festival. The eclectic creativity that resonated throughout the festival continues to linger with me even over a week after the event! Nestled in a valley at the base of a breathtaking mountain range, the campgrounds on Hummingbird Ranch were ideal for a weekend getaway. Festival-goers filtered in throughout the day on Thursday, posting their tents and slathering on sunscreen, preparing for the excitement to come.
As the sun began to fall behind the horizon, the heart of Sonic Bloom came to life and thousands of people swept through the gates and scattered to one of three unique stages. The first day of the festival was mostly dedicated to setting up our campsite and discovering all that there was to offer throughout the grounds. Geographically, Sonic Bloom is relatively small but that did not stop the organizers from jam-packing every inch of the grounds with installations, workshops, and ongoing creative projects. In all honesty, Sonic Bloom may be one of the most interactive music festivals I've ever been to. Art is being made in little nooks across the grounds, slack-lines and hammocks are hanging between trees, hoops are being hoola'd, and human interactions were Blooming everywhere you look.
The blatantly apparent sense of community at Sonic bloom is refreshing and made everyone feel right at home. My first big set of the night kicked off at the Bloom stage with an epic show by LowPro. LowPro., of Potent Productions, stands out due to his very own inventive engineering that allows him to manipulate his music and visual show all in perfect synchronicity. LowPro.'s successful show elicited an encouraging mood from the surrounding crowd, producing a radically positive omen for everything yet to come. LowPro. Has since released a brand new EP which you can enjoy fully right here!
Thursday's festivities were far from over. With sets occurring during simultaneous time slots, it was a difficult choice to see either VibeSquaD or Edamame but the buzz of the night surrounded the closing show of the night took place at the Hummingbird stage, cushioned in the center of the festival within a small sanctuary forest. The excitement for Daily Bread's set increased throughout the day and gathered together all the night owls for a late night set. Daily Bread masterfully incorporated iconic melodies into a collage of soundscapes. His show maintained high-energy, however, it was clear this was simply a warm-up for the rest of the magic to come from Sonic Bloom.
Friday morning started off hot and heavy, as the sun beat down onto people's tents. As festival-goers crawled out to avoid baking alive and began preparations for the day's revelry. Sonic Bloom provided a refreshing shower oasis, stocked with hot and cold water, which became increasingly necessary as the weekend progressed. Music didn't begin playing until four or five each day, so midday routines consisted of grabbing food from one of the many stacked food trucks that had an amazing array of options. Heady Tacos was definitely a festival favorite, along with Space Fruit, Umami Mobile Eatery, Grilled Cheese Incident and many more!
Although numerous people spent the early afternoons recouping from late-night shows, there was an endless amount of performance art and mind-opening workshops scheduled throughout each day. The Alchemy Lounge and Permaculture Action Hub were tirelessly providing activities that involved creative and sustainable practices that could be transferred towards daily habits even after the festival came to an end. To name a few others, workshops included songwriting and slack-lining intros, an edible plant walk, self-defense basics, intros into the importance of hives and honeycomb, herbology, art paired with activism and the list goes on and on. On top of all of these amazing opportunities, the festival was incredibly family friendly and even had a children's village referred to as Rainbow Lightning. The children's village had an eclectic amount of activities for kids, which there were many, as well as the whole family.
Not only was there a menagerie of inclusionary classes, but the yoga dome had yoga classes on and off throughout each day of the festival. Classes ranged between fundamentals of yoga, vinyasa flows, synaesthesia yoga nigra, partner yoga and the Tao of dance. Every night, the Yoga Dome would transform into an all-encompassing mini venue where artists could go to experiment on the equipment, whether it was sound or lights. The dome ended up being the favorite after-hours location for people who wanted to see impromptu DJ sets from a variety of the lineups performers. This space gave artists the ability to interact with the crowd and feed off of their energy in a deeper way because it was an environment that supported improvisation and being present in the moment, a theme that was often reiterated all across Sonic Bloom. Some of the crowd favorite sets of the entire weekend came from the yoga dome, especially Sunday night when names like Dozier and Phlo managed to absolutely pack the house out and send their bassy, experimental vibes pouring into the final night, but now I'm jumping ahead.
Friday night had an amazing lineup across the board, continuing the hype that was generated from Day 1. Autonomix and Midicinal were two of the earlier sets of the day but they got things fired-up at Hummingbird Stage, the stage where basically everything began and ended every day. All weekend, Hummingbird Stage provided shade from the intense heat while still allowing the immersion of an outdoor venue. Going from show to show, I watched people delve in and dance to unknown rhythms that seemed to be discovered on an individual level as we all fed off the movements of others. There were smiles everywhere I looked and body language was telling that people were truly feeling the music, not simply listening to it. Bodies reacted naturally in order to take you to an illusory place mentally and physically.
After what was probably the best set of Midicinal's career (he had dancing lobsters!), it was a quick trip back to the campsite, then the rest of the night was nonstop with back to back sets as I jumped between stages. It was such a stacked day, I didn't even get to see everyone that I wanted to. I stayed at the main stage for the majority of the night to see Knower; into Yheti; into Emancipator Ensemble; into Gramatik, who inevitably blew people's minds with his dynamic sound and visual show. He was the biggest name of the weekend and he absolutely did not disappoint. Accompanied as always by the smooth sounds of Adam Stehr on the guitar, they left the festival basically speechless with their high-energy, headline set. I overheard some fans saying over and over, "Gramatik is BACK" although, I never thought he went anywhere.
My excitement held strong after Gramatik's set while my crew and I headed back to The Hummingbird Stage for some late night extravagance. Yak Attack was just going on as we made our way there and the dancing was electric, so I quickly jumped into the thick of it. Amazingly, the energy just never seemed to die down and as 3:30 rolled around, The Librarian's set was just beginning. Her set was the last one I saw that night and was debatably my favorite of the entire weekend.
Saturday marked the day I finally gave in to taking a shower, treating myself to a big meal and a CBD infused coffee. People had been incessantly raving about the coffee, as well as the CBD infused lemonade, so I just couldn't pass it up. Although the day started out sunny and hot, the afternoon quickly clouded over and it became ominously overcast. I was at main-stage to catch MoonFrog Band with a couple of friends as it got increasingly cold and began to rain. It was amazing to see the people who stuck it out, huddling together and enjoying the music despite the bad weather. However, after the set, we basically ran back to camp and took cover inside the car just before the wind picked up. The rain began to pour and hail came pounding down all around us. From the car, I watched as pop-up tent shades were literally yanked out of the ground and tarps flew about, all over the place. When I talked to Stephen Chun (leader of the festival's green team efforts) after Sonic Bloom had concluded he told me that they were able to collect and recycle 5,940 pounds of the pop-up "skeleton" pieces by collecting all of the leftover broken ones.
The bad weather lasted for a couple of hours but eventually blew over, just in time for everyone to rally and hike back towards the music. A rumor has spread that if the weather had continued, the festival might even be shut down for the night but luckily no one was prepared to let that happen. We all quickly regrouped and headed towards main-stage, where Spoonbill was getting ready to play. The resilience of Sonic Bloom's attendees and the staff was amazing to watch, even as hail still scattered the ground it appeared that the storm was all but forgotten once the music started back up. It was hard to believe that the lineup could be any better than Friday night but once again, main-stage had an insane trilogy of artists. Spoonbill set it all off, followed by Jade Cicada who was another weekend favorite of mine and then a big finish by Opiuo. As Opiuo came to an end, the crowd was fueled by a reverent energy for all the artists and performers that continued to kill it all weekend long, without letting anything get in the way of an unforgettable festival.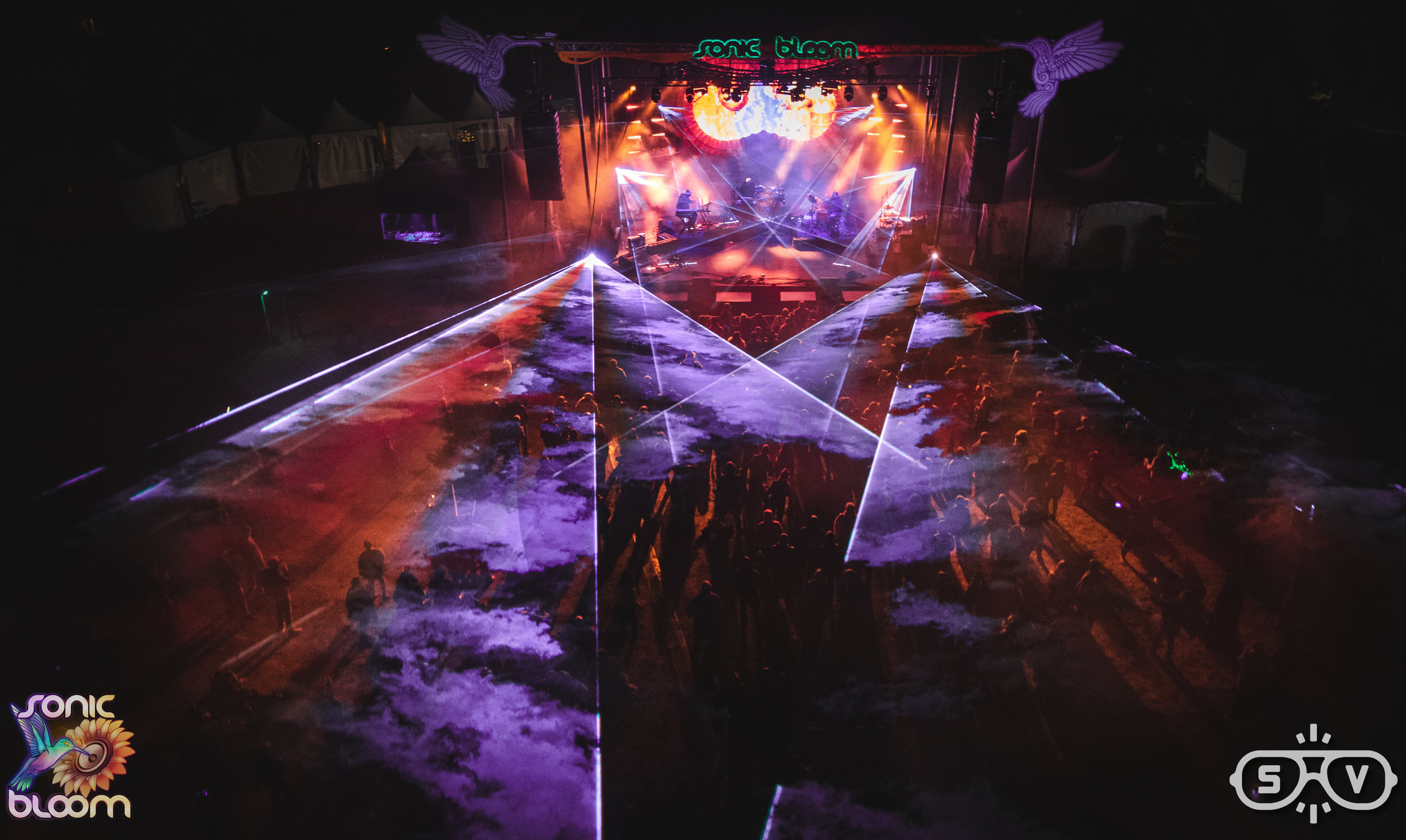 Now, the stage was set again for some late night shenanigans at The Hummingbird Stage where legend Mark Farina was rocking his unique and signature sound. He mixed in old classics like Paul Simon with a new housey-vibe that let the crowd know he's still got "it" and still plans to use "it." His set spilled into Yheti and Farina basically mixed his way off stage for one of the most amazing transitions I've ever seen. The music never stopped as Farina's housey, mushroom-jazz transitioned into Yheti who then took the crowd into another universe for his second set of the weekend. He played indefinitely into the wee hours of the morning...basically playing until the sun rose Sunday. You could hear him loud and clear from camp even thanks to those Funktion Ones and every hour it was like he would switch his style completely, taking the party to another "next level" and leaving those listening from afar left to wonder if they were missing the party of the festival… which they might have been.
As Sunday morning set in, so did that "festival survival mode" we all know so well. The last day of this amazing and beautiful experience was upon us and it was time to muster all the strength left to get in there and leave it all on the battlefield, so to speak. Sunday's can often be the perfect day to make sure and hit all those vendors. AKA, shopping day. The weather was great and provided the perfect opportunity to go get the last minute gifts and trinkets and potentially buy any of the beautiful art. And there was, of course, more amazing music. The Meadow Stage had a great day on Sunday with a stacked lineup of mostly Colorado local artists, which Sonic Bloom was amazing about highlighting all weekend. From Funkstatik and TruFeelz to Dozier and The Orcastrator and topped off with an electric set by Homemade Spaceship. Some of these artists managed to take-over the yoga dome later that evening, as I mentioned before. The day was dubbed as a sort of "family day."
The major set of the night was The Russ Liquid Test, who expressed his particular excitement about Bloom to us when we spoke to him before the festival. He was excited to "get the band back together" as he hasn't had as many opportunities to play with his entire band lately. His set spilled over into The New Observatory which then turned into the long-awaited Sonic Bloom Orchestra. My take on this, basically any of the rockstars still alive from the weekend take the stage for one final jam. Simply amazing! Jason Hann and Michael Travis are doing for music what Netflix did for in-home entertainment, they are changing the game! Or enhancing the game, or just inventing a new game, I don't know. What I know, is if it makes noise, they aren't afraid to try and use it in a song. From String Cheese to Eoto, to The New Observatory, Zilla, and all their other side projects, they are leaders in an ever-growing community, changing the minds of neigh-sayers, breaking through previously set musical boundaries, and inspiring so many young artists along the way. Travis took the mic during one of the two festival press-conferences and his input was insightful to the level of involvement and passion they pour into the entire community.
One thing that was beautiful about Sonic Bloom, was how much care every artist took to ensure the audience had an encapsulating experience. It was clear that there was a broad knowledge of how every aspect of performance impacts the response of people in a crowd, from sound design to incredibly immersive visuals through laser production. Overall, Sonic Bloom brought together a family of music lovers and I can't wait to go back next year, and hopefully for many years to come!